Nursing Careers at Wellstar
You have unique ambitions and career goals, and Wellstar wants to help you reach them. Regardless of your experience level or specialty, we offer a wide range of employment opportunities for nursing and nursing support staff. Here, you'll play a vital role in providing patient care that enhances the health and well-being of every person we serve. You'll also have the opportunity for your voice to be heard in shaping decisions that impact nursing practice and patient care. Join Wellstar and immerse yourself in a diverse and collaboration-driven culture – and watch your career flourish.
Our Vision for Nursing:
Holistic patient and family centered care

Quality and innovation

Education

Evidence-based practice

Nursing Research
Flexibility for your lifestyle
As one of the largest and most integrated healthcare systems in Georgia, Wellstar provides nurses with numerous diverse and supportive work environments – from traditional hospitals and physicians' offices, to a variety of clinical settings. In addition, we offer the ability to transfer seamlessly within our system, while retaining seniority and benefits. Since work-life balance is so important, we provide our team a variety of shifts and schedules, with the freedom to self-schedule around their busy lives.
Wellstar is proud that multiple hospitals throughout our system have earned the Beacon Award for Excellence. The American Association of Critical-Care Nurses created the Beacon Award to recognize individual units that distinguish themselves by improving every facet of patient care.
Search by your Nursing Specialty:
Nursing Professional Practice Model
Caring Compassionately. Practicing Professionally.
Simply put, this is the Wellstar Nursing Professional Practice Model philosophy. Through this way of thinking, our nurses are empowered to find new solutions to healthcare challenges, while contributing to their profession – through research and innovation. By engaging in shared decision-making and strategic partnerships with leaders, they not only advance their practice, but also contribute to exceptional patient outcomes.
By embracing shared leadership, we foster a culture rooted in team member engagement, collaboration, and trust. This results in an enriched work environment that promotes nursing excellence at all levels of practice.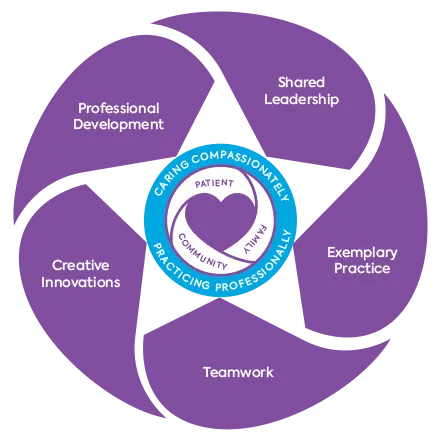 Our Nursing Professional Practice Model is driven by five components:
SHARED LEADERSHIP

Embracing Shared Leadership fosters a culture that is rooted in team member engagement, collaboration and trust, resulting in an enriched work environment that promotes nursing excellence at all levels of practice.

EXEMPLARY PRACTICE

By empowering innovation through collaboration, our nurses are afforded the opportunity to continuously monitor and improve their professional practice and the outcomes of our patients.

TEAMWORK

Through teamwork, communication and interdisciplinary planning of care, Wellstar nurses deliver safe, high-quality healthcare. Nurses at all levels are involved in decision making, which enhances collegiality among team members.

CREATIVE INNOVATIONS

Continuous improvement methodologies encourage our nurses to be leaders and active partners in change, as well as foster creative and innovative solutions, resulting in excellence.

PROFESSIONAL DEVELOPMENT

Wellstar is committed to supporting our nurses in their pursuit of ongoing education and professional growth.
Be sure to take a look at our Annual Nursing Report for real-life examples of how our nurses have advanced their professional nursing practice.